Write the Super hit!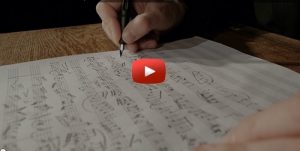 Inspire the audience with your music and win prize money totaling 11.000€ with your composition – take part in the Progressive Classical Music Award 2019!
Compose new music for two violins that goes under the skin and sweeps audiences off their feet. There is no limit to your imagination. Using virtuosity or simply great emotionality– always remember that the audience has to be touched or carried away!
The style does not matter. Playing technique should be challenging, unconventional, with new effects, nice melodies, extreme sounds or hot rhythms – let your imagination run wild!
Orchestration: 2 violins.
Form: about 5 minute music.
Info: The work has to be composed for this competition. Adaption or arrangements are not permitted. Multiple submissions are allowed.
Closing date for entries: 5. July 2019, extended until 7. July, 23:59 CET
Finale with LiveStream: September 28, 2019, 20:00 CET, Reiss-Engelhorn-Museen D5, 68159 Mannheim UNESCO City of Music, Germany
Prizes
1. Prize: 5.000€, sponsored by Spiegel Institut Mannheim
2. Prize: 3.000€, sponsored by Brougier-Seisser-Cleve-Werhahn-Stiftung
3. Prize: 1.000€, sponsored by Ingenieurbüro Bräuer + Späh
4. Prize: 800€, sponsored by Dr. Hans-Oskar Koch
5. Prize: 600€, sponsored by GMS CNC-Technik
6. Prize: 600€, sponsored by GMS CNC-Technik
Additionally, the prizewinner works will be recorded by The Twiolins and added to their concert repertoire.
Additionally for prizes 1-3: One-year free subscription of all Symbolium instruments ($194 value each).
Additionally for prizes 4-6: One-year free subscription for Symbolium Violin package ($53 value each).
Course
After a thorough examination by the jury, six works will be selected from all submissions. These will be premiered in the prize winner concert by The Twiolins. Following the concert, the audience will vote on the awards. Additionally the prizewinner works will be recorded professionally on a CD. For details see terms and conditions.
Registration
Please read the terms and conditions. Please use the registration form to submit your composition.
If you have questions regarding your submission please use the contact form or email to info@pcm-award.com
If you have any questions please read the FAQ or contact us here.
Please subscribe the newsletter to be informed about all news.
Sponsored add:
Use all sound possibilities of the Violin
Symbolium is a digital platform for composers who love exploring various classical music symbols and gives the opportunity to experiment in a wider range of capabilities. The Violin package has nearly three hundred reference notations and it's synonyms, divided into specific categories and presented in an intuitive interface. Get inspired by the numerous techniques and easily bring your exceptional music ideas to the score!
FAQ
Composition: Which instruments / orchestration should i compose for?
Please compose for the orchestration 2 violins! No other instruments, no piano accompagnement or other. Examples you can find at www.thetwiolins.com and CDs and sheet music.
Composition: How long should my piece be?
Approximately 5 minutes. No shorter than 4.15 minutes and no longer than 5.30 minutes.
Composition: Can I arrange existing music for two violins?
No. The PCMA is not interested in any kind of arrangements.
Composition: Can I also enter music composed for the electric violin or effect machines?
No.
Composition: Can i submit more than one composition?
More than one composition per submission is allowed. Please mark the same CODE NAME on each composition. Please create separate PDF-files for each composition. Please summarize all compositions to one ZIP-Archive. If you have already submitted the registration form and want to submit another composition, use the same CODE NAME for the composition, make another payment (and save the confirmation) and fill out the form again. The competition will make sure, that the first instance of the jury will select not more than one composition of the same composer for the finale. A third independent person will ensure anonymity of this procedure.
Composition: Which page orientation, page format and file format should i use?
Please use portrait page orientation and DIN A4 format only! Please submit only the score (no separate parts are needed) as a file-export from your music notation software respectively as a scanned document from a readable manuscript. Please export PDF-files or numbered picture series (as ZIP-file). If you want to submit more than one composition, please also ZIP the PDFs or numbered picture series. Please contact us if you want to send other formats or have problems with the registration form.
Composition: Can I enter music that I have already composed?
All compositions submitted must not haven been released in printed or published form or even offered to a publisher for printing before the finale. Also, the compositions must not haven been performed in public or even provided to any other ensemble before the finale. The composition must be composed for the PCMA and the violin-duo "The Twiolins" (Marie-Luise and Christoph Dingler). Form: ca. 5 minutes. Orchestration: 2 violins. Adaption or arrangements are not permitted.
Participation: When is the application deadline?
Your application must be sent by registration form onlie no later than 5th July 2019, 11:59pm CET.
Participation: Where can i find/download all important documents?
Announcement on the website https://www.pcm-award.com/en/award-2019/announcement-2019/ Conditions of participation (and also announcement) in German and English as PDF-file https://www.pcm-award.com/2019/conditions2019.pdf Registration form https://www.pcm-award.com/en/award-2019/registration-form/
Participation: Which documents are necessary for taking part in the competition?
Composition as PDF-file (or ZIP-file if multiple compositions or numbered picture series) Payment-verification as JPG/PNG or other file Personal information you will be asked in the registration form.
Participation: What is the processing fee?
15€ per submitted composition.
Participation: Can i submit more than one composition?
Multiple submissions are possible, please name all compositions with the same CODE NAME and ZIP all files for uploading. The competition will make sure, that the first instance of the jury will select not more than one composition of the same composer for the finale. A third independent person will ensure anonymity of this procedure.
Participation: How do I find my CODE NAME / keyword / codeword / chiffre?
Just invent one. Please choose a random combination of lower case letters and numbers without special- characters or blanks/spaces For example: XV123ABC Please do not use parts of your name, title of the composition or other phrases which are unique to your submission.
Participation: Can I submit my composition by letter / registered mail / parcel / package?
No. Use the registration form on the website to submit your composition. If you have problems using the form, please contact us.
Participation: How do I pay the application fee anonym?
You don´t. The Jury won´t see any bank details. The treasurer of our friend´s association controlls every bank transfers of the fees.
Participation: How do I pay via paypal? Is it safe?
First you should open a paypal account for yourself. Then you log into your account and find the page "send money". There you insert our email address paypal@pcm-award.com, add the amount of 15€ (or if you want to submit more compositions, e.g. 3, calculate the total amount, e.g. 3 x 15€ = 45€) and in the next step - very important - please enter your CODE NAME in the field "message / notice". Then send it. Paypal is very safe and safes bank fees for international transfers.
Participation: Am I allowed to include a recording of my work with my application?
Yes. A recording may help us to comprehend the work as a whole more quickly. However, this is not compulsory and in no way influences our decision regarding the work. Please use your time at the best to compose your music! The recording will not be judged! Please send your mp3/aac/midi/zip file through the registration form
Participation: Can I also send the sheet music by email?
No. Please use the registration form. If you have problems using the form, please contact us.
Final: Do i have to be present at the final concert?
For all composers nominated for the final concert it is an obligation to be present at the final concert. If a composer is not able to attend the finale concert, his composition will be withdrawn and another composition will take his place. If the composer finds himself outside the european continent at the date of the concert, he is exempt from attending the concert. Instead he has to be available via video conference (skype) during the concert.
Komposition: Für welche Besetzung soll ich komponieren?
Besetzung 2 Violinen! Keine anderen Instrumente, keine Klavierbegleitung oder sonstiges. Beispiele finden Sie unter www.thetwiolins.de sowie unter CDs und Veröffentlichungen.
Komposition: Wie lange soll mein Stück dauern?
Ca. 5 Minuten. Nicht kürzer als 4,15 Minuten und auch nicht länger als 5,30 Minuten.
Komposition: Darf man vorhandene Musikwerke für zwei Violinen arrangieren?
Musikalische Anspielung sind erlaubt. Komplette Transkriptionen sind nicht erwünscht.
Komposition: Darf man auch für E-Geigen oder Effektgeräten komponieren?
Nein.
Komposition: Darf ich schon bereits komponierte Werke einsenden?
Die eingesandte Komposition darf bis zum Finale weder im Druck erschienen noch einem Verlag zur Drucklegung angeboten worden sein. Bis zum Finale darf die Komposition weder öffentlich aufgeführt noch einem anderen Ensemble zur Verfügung gestellt worden sein. Das Werk muss für den PCMA und für das Violinduo "The Twiolins" (Marie-Luise und Christoph Dingler) geschrieben worden sein. Dauer: ca. 5 min. Besetzung: 2 Violinen. Adaptionen oder Arrangements sind nicht zulässig.
Komposition: Welche Seitenlayout, Papierformat und Dateiformat soll ich verwenden?
Bitte verwenden Sie ausschließlich DIN A4 Hochformat. Bitte exportieren Sie ein PDF-Dokument direkt aus Ihrem Notensatzprogramm bzw. scannen Sie Ihr leserliches Manuskript ein. Alternativ zu PDF-Dateien sind auch eindeutig nummerierte Bildreihen (01.jpg, 02.jpg...) möglich oder andere Formate nach Rücksprache. Sollten Sie mehrere Kompositionen einreichen, fassen Sie bitte alle PDFs  bzw. Ordner mit Bildreihen in einem ZIP-Paket zusammen.
Teilnahme: Wann ist Anmeldeschluss / Einsendeschluss?
5. Juli 2019, 23:59 Uhr CET. Es gilt das Datum des Formulareingangs auf der Website.
Teilnahme: Wo finde ich alle notwendigen Dokumente für die Teilnahme?
Die Ausschreibung finden Sie auf der Website unter https://www.pcm-award.com/de/award-2019/announcement-2019/ Die Teilnahmebedingungen (und Ausschreibung) in Deutsch und Englisch finden Sie als PDF unter https://www.pcm-award.com/2019/conditions2019.pdf Das Anmeldeformular finden Sie unter https://www.pcm-award.com/de/award-2019/registration-form/
Teilnahme: Welche Unterlagen sind für eine vollständige Einsendung notwendig?
Im Anmeldeformular werden Personenbezogene Daten erfasst (Name, Geburtsdatum, Anschrift usw.). Zusätzlich benötigen Sie Ihre Komposition als PDF-Datei für den Upload bzw. als ZIP-Datei bei mehreren Komposition bzw. Nummerierten Bildfolgen). Für Zuordnung Ihrer Bearbeitungsgebühr laden Sie bitte einen Screenshot / Scan Ihres Zahlungsvorgangs hoch. Optional können Sie eine Audio-Datei hochladen, dies kann auch eine synthetische Aufnahme aus Ihrem Notensatzprogramm sein (die Qualität hat keinen Einfluss auf die Entscheidung der Jury).
Teilnahme: Wie hoch ist die Bearbeitungsgebühr?
15€ pro eingesandter Komposition.
Teilnahme: Kann ich mehrere Komposition einsenden und wenn ja, wie?
Es kann auch mehr als eine Komposition eingereicht werden. Pro Komposition ist eine Bearbeitungsgebühr von 15€ zu entrichten. Bitte zahlen Sie die Gesamtsumme in einer Zahlung. Bitte das gleiche Codewort auf allen eingesandten Kompositionen vermerken. Bitte für jede Komposition eine separate PDF-Datei erzeugen und anschließend alle PDFs in einem ZIP-Paket für den Upload über das Anmeldeformular zusammenfassen. Sollten Sie das Anmeldeformular bereits abgesendet haben und möchten aber trotzdem noch eine/mehrere Komposition(en) nachreichen, benutzen Sie bitte das gleiche Keyword wie bei der ersten Anmeldung. Tätigen Sie bitte eine erneute Zahlung der Bearbeitungsgebühr und füllen anschließend das Anmeldeformular aus. Von Seiten des Wettbewerbs wird sichergestellt, dass die erste Instanz der Jury nicht mehr als eine Komposition des gleichen Komponisten für das Finale nominieren kann. Die Anonymität des Verfahrens wird durch eine dritte, unabhängige Person gewährleistet.
Teilnahme: Wie finde ich mein Codewort / Keyword / Chiffre?
Die Noten dürfen NICHT den Namen des Komponisten enthalten sondern stattdessen nur mit einem Codewort (Chiffre) gekennzeichnet sein. Dieses Codewort ist eine beliebige Folge von Kleinbuchstaben und Zahlen ohne Sonder- oder Leerzeichen, die der Komponist selbst wählen soll (Beispiel: XV123ABC). Dieses Codewort ist auch bei der Zahlung anzugeben (Paypal oder Überweisung). Somit bleibt die Komposition für den weiteren Wettbewerbsverlauf anonym und ist zugleich eindeutig gekennzeichnet.
Teilnahme: Darf ich meine Komposition auch als Brief, Paket oder Päckchen schicken?
Nein, Ihre Anmeldung und Einreichung der Komposition kann nur online über das Anmeldeformular erfolgen. Sollten Sie Probleme mit dem Formular haben, kontaktieren Sie uns bitte.
Teilnahme: Wie bezahle ich die Bearbeitungsgebühr anonym?
Eine anonyme Zahlung der Bearbeitungsgebühr ist nicht notwendig, da die Einsendungen und Zahlungen vom Wettbewerbsbüro verwaltet werden. Die Jury bekommt nur die Noten zur Ansicht.
Teilnahme: Wie bezahle ich über Paypal? Ist das sicher?
Zuerst müssen Sie sich einen eigenen Paypal Account zulegen (unter "Registrieren"). Dann loggen Sie sich ein und klicken auf "Geld senden" im Menü. Dort geben Sie unsere Paypal-Adresse paypal@pcm-award.com ein und legen den Betrag 15€ (bzw. 15€ multipliziert mit der Anzahl der eingereichten Kompositionen) fest. Im nächsten Schritt erscheint ein Feld "Mitteilung / Nachricht". Dort bitte unbedingt das CODEWORT notieren, so dass Ihre eingesandte Komposition zugeordnet und für den Wettbewerb zugelassen werden kann. Ob Sie lieber mit Paypal oder per Banküberweisung bezahlen möchten, bleibt Ihnen überlassen. Beide Methoden sind sicher, eine Banküberweisung aus dem Ausland ist mit hohen Gebühren belastet, während eine Überweisung via Paypal mit wesentlich geringeren Gebühren verbunden ist. Paypal ist eine sichere Lösung für Überweisungen.
Teilnahme: Soll ich die Anmeldung schon abschicken, bevor ich mein Werk fertig habe?
Nein, bitte senden Sie Ihre Anmeldung erst ab, wenn Sie alle Unterlagen vollständig zusammen haben.
Teilnahme: Muss ich eine Aufnahme meines Werkes über das Anmeldung hochladen?
Eine Aufnahme ist optional und beeinflusst in keinem Fall die Entscheidung der Jury. Den Interpreten kann eine Aufnahme möglicherweise erleichtern, das Werk im Gesamten schneller zu erfassen. Dies ist aber keine Pflicht. Bitte verwenden Sie keine allzu große Mühe für eine Aufnahme, die Komposition an sich ist entscheidend! Bitte laden Sie die Audio-Datei als komprimiertes MIDI/MP3/WMA/AAC/Zip (max. 15mB) über das Anmeldeformular hoch.
Teilnahme: Kann ich die Noten auch per Email schicken?
Nein. Eine Einsendung kann ausschließlich über das Anmeldeformular erfolgen. Bitte folgen Sie den Anweisungen in den Teilnahmebedingungen
Finale: Muss ich als Komponist beim Finale anwesend sein?
Die Anwesenheit beim Preisträgerkonzert der für die Endrunde nominierten Komponisten (innerhalb des Europäischen Kontinents) ist Pflicht. Reise- und Unterkunftskosten werden übernommen. Kann ein Komponist nicht zum Preisträgerkonzert kommen, scheidet sein Werk aus und ein anderes rückt nach. Falls sich ein Komponist zu diesem Zeitpunkt außerhalb des europäischen Kontinents befindet, entfällt die Anwesenheitspflicht. In diesem Fall muss er per Videoschaltung via Skype für die Dauer des Finales erreichbar sein.